A Day in the Life of a Blogger
January 29, 2016
This shop, featuring the Walmart Family Mobile PLUS plan and A Day in the Life of a Blogger, has been compensated by Collective Bias, Inc. and Walmart Family Mobile. All opinions are mine alone. #DataAndAMovie #CollectiveBias
People often ask me what I do as a blogger. Much to their surprise, the answer is usually long and complicated! A blogger doesn't just write posts! There's so much that goes on behind the scenes to keep a blog going, and of course, I can't sit in front of a computer all day long. Actually, you can usually find me running around town all day long. Luckily, with the new Walmart Family Mobile PLUS plan, I can stay connected and get work done even when I'm on-the-go! Today, I'm showing you what a typical day looks like for me – everything from running my own errands to bringing the kids to a play date – and how the Walmart Family Mobile PLUS plan makes my life so much easier!
A Day in the Life of a Blogger
Since running a blog requires me to work even when I am out of the house, I am totally loving my new Walmart Family Mobile PLUS plan! It features Unlimited Talk, Text, & Data, including up to 10GB of 4G LTE data PLUS a free movie on VUDU ($7 value) every month per line for $49.88! What an incredible value! I need a great data plan to be active on social media, answer blog comments, respond to e-mails, etc. while I am running errands around town. With this plan, I don't have to worry about going over my data allowance. With my previous cellphone plan from another carrier, I only had 250 MB of data and very often exceeded my monthly allowance! With 10GB of 4G LTE data, the Walmart Family Mobile PLUS plan allows me to browse the web, respond to emails, stream music & videos, and so much more- all while on-the-go! Disclaimer: All prices for phones and plans included in this post are accurate as of the date of posting; however, these prices are subject to change. Please refer to this webpage or your local Walmart for current pricing.
We actually purchased a streaming media player during the last Black Friday so we have been having Family Movie Nights once per week. It's a great way to connect as a family and spend some quality time together. My daughters absolutely love picking out the movie each week! So that's why I was so excited to learn that the Walmart Family Mobile PLUS plan comes with one free movie on VUDU ($7 value) every month! What a fabulous bonus! We regularly purchase VUDU movies anyway, so getting one free per month makes me really happy! I'm always looking for ways to save money, and this is an effortless way to really get our hard-earned money to stretch further!
Now, let me now share how I spend a typical day balancing personal responsibilities with blogging duties (all while on-the-go) and how the Walmart Family Mobile PLUS plan really facilitates my mobile lifestyle!
I generally wake up fairly early around 6AM. I like to wake up before everyone else, so I can enjoy a hot tea quietly and plan my day. I also usually try to go through my email at this time. However, I don't like to eat my breakfast in the office. I usually like to enjoy my breakfast in the kitchen, so I use my Walmart Family Mobile LG Leon LTE Smarthphone to stay connected in the kitchen!

The phone features the Android 4.4 KitKat operating system and a 4.5″ touchscreen display (this is a huge improvement over my last phone)! It even offers a talk time of about 9 hours and a standby time of up to 250 hours- plenty of time to use the phone throughout the day and not worry about running out of battery power! And since the
Walmart Family Mobile PLUS plan
offers 10GB of 4G LTE data, I can easily check my email during breakfast without worrying about my data usage! This plan fits so well with my lifestyle because I can make sure I stay connected even when I'm away from my desktop! Essentially, it helps me take my "office" with me wherever I go!
After breakfast, I take my older daughter to Pre-K. We usually wait on a bench in the lobby until the classrooms open to the students. While sitting down on the bench with my daughter, I checked the weather on my phone to plan out the rest of our week's activities. And then I also let Sophia look at some photos on my phone- she loves reminiscing and seeing pictures we've taken over the last few weeks. Here's a picture of us looking at the snow sleds we played with only days earlier!

I've taken really great pictures with my Walmart Family Mobile LG Leon LTE Smarthphone! Featuring a front-facing VGA selfie camera & a rear-facing 5MP camera w/ LED flash, this phone is perfect for capturing those everyday moments with a sharp resolution! And with 8GB of internal memory, I never have to worry about running out of storage for music, videos, photos & games!
After I dropped off my daughter to Pre-K, I headed to Walmart. I knew I needed to buy some ingredients for a recipe post, but when I got to the store, I realized I forgot exactly which ingredients I needed to feature in my post. So I quickly used my LG Leon LTE Smartphone to find out!

The phone is Wi-Fi capable and Wi-Fi calling capable, which is totally convenient, but the really
impressive
thing about the
Walmart Family Mobile PLUS plan
is the amount of data: 10GB of 4G LTE data! I don't usually have access to a Wi-Fi network when I'm out of the house, so having a cellular plan with a lot of data means I can get online whenever I need to! This is the type of convenience that is worth so much!
After stopping by Walmart, I headed home to bake a cake for my recipe post! While I was prepping the ingredients for my recipe, I streamed some music from the Internet! I also decided that it would be nice to take the kids to a play date in the afternoon. So I quickly texted my friend to see if she is available in the afternoon for a little get-together at the local mall.

Since the Walmart Family Mobile PLUS plan offers unlimited texts, I never have to worry about using up any text allowance! Between my husband, my friends and my family, I probably send hundreds of texts every month! I really love that this plan allows me to keep in touch with the people I love without worrying about going over any text limits!
So, after I picked up my older daughter from Pre-K, I brought my children to the local mall for the play date, where they had fun playing with their friends! I snapped a photo of my older daughter playing and sent a photo text to my parents – they absolutely love receiving photos of the kids throughout the day! I also posted the photo of my daughter playing on Instagram; here is the Instagram post of my daughter!

As a blogger, I like to regularly post things to my blog & social media channels that are organic (non-sponsored), but I need a cellular plan that offers a lot of data! And with the Walmart Family Mobile PLUS plan, I can easily post to my social media channels even when I don't have a Wi-Fi connection.
We had to run a few quick errands after the play date, so while my husband ran into the bank, I stayed in the passenger seat of the car and responded to some blog comments!

There was definitely no Wi-Fi connection in the bank parking lot, but that didn't stop me from getting work done! I was able to quickly log into my blog dashboard and respond to several comments! I love being able to keep up with my blog even when I am on the road! It's such a huge convenience!
After the bank, it was time to head home for dinner. I usually like to do another 20 minutes of work right before bedtime. I usually take this time to address any social media likes, re-tweets, questions, etc. I also call my Mom in the evenings to catch up with her! We talk about our days and share some jokes & laughs!

Since the Walmart Family Mobile PLUS plan offers Unlimited Talk, I never have to worry about exceeding any talking limits! I never have to think twice about keeping in touch with my loved ones!
Last night, we even cashed in our free credit for a VUDU movie! We all gathered on the sofa with yummy snacks & drinks to enjoy a Family Movie Night! It's so fabulous being able to spend time together in this way! And I love that there is such an amazingly wide selection of VUDU movies available!
Head to your nearest Walmart to pick up a Walmart Family Mobile smartphone and sign up for the Walmart Family Mobile PLUS plan! It's a fabulous value that offers the ability to stay connected while on-the-go!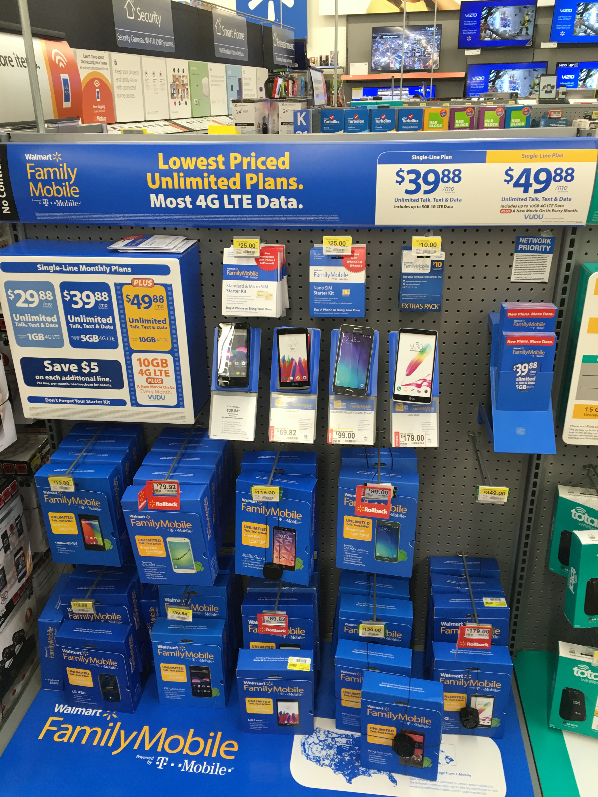 Now, learn more about all the benefits of the Walmart Family Mobile PLUS plan here and tell me: Do you have enough data? Are you looking for a better cellular provider? How do you stay connected with your loved ones when you're on-the-go?


Disclosure: Engineer Mommy is a participant in the Amazon Services, LLC Associates Program, which is an affiliate advertising program designed to provide a means for sites to earn advertising fees by advertising and linking to amazon.com. As an Amazon Associate I earn from qualifying purchases. For additional details, please see our full
Disclosure Policy
. Any link may be an affiliate link. All opinions are exclusively my own.