Outdoor Entertaining Made Easy with the Char-Broil Kettleman Grill
April 20, 2015
This post brought to you by Char-Broil. The content and opinions expressed below are that of Engineer Mommy.
The weather is warming up and the days are getting longer – it's the perfect season for spending time outdoors with family and friends! When we are entertaining outside, there is nothing more integral to a successful & fabulous meal than a great grill! We just moved to the new house and we are definitely in the market for a new grill. We want a grill that is efficient and high-tech but is still affordable. My husband is very particular about grills, and we are both so impressed with all the features (and the price point) of the new Char-Broil Kettleman Grill!
There are so many useful features in this grill – it's perfect for backyard enthusiasts (like us) who want to prepare and serve a delicious meal outdoors this year! The grill is available at Lowe's or online via www.charbroil.com, so you can enjoy grilling on this fabulous new grill in no time! 
Here are some of the features of the new Kettleman 22.5″ Grill that we love:
Smart temperature control

: There are vents all around the body of the kettle. This allows air to circulate more easily and to fuel the fire from 360 degrees, providing an even heat! Even heat means tasty (and well-cooked) food!

Flare-up control:

The grate is coated with porcelain and is designed to prevent food from falling through the grate. This also keeps flames away from the food! Win-Win!

Charcoal control:

This grill is designed to grill two times as many burgers with the same 50 briquettes as the leading kettle! Saving time at the grill means more time spent with family and friends!

Stability control:

The steel legs of the grill are designed to keep the grill in place and yet allow for easy mobility. 

Hinged Lid:

The latching lid is hinged, which means that the lid never has to be placed on the ground. I love that!
If you'd like to see even more reasons why this grill will make your backyard entertaining easier and more fun than ever, learn more about the Kettleman grill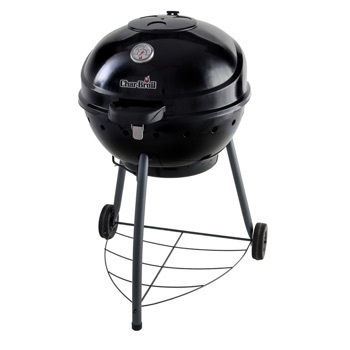 Both of my daughters' birthdays are in the Summer, and since this is the first Summer we will be spending at the new house, we plan on doing outdoor BBQ-themed birthday parties for them. The kids can run around and play on the swing sets. There may even be an inflatable pool with water and toys inside! The adults can lounge on the patio and enjoy the food and drinks. My husband will be at the grill, preparing the burgers and hot dogs and chicken! I cannot wait- it's going to be so much fun! I love spending time outdoors in the Summer!
The Summer is rapidly approaching, so if you plan on doing as much outdoor entertaining as us, make sure you are well-equipped! The new Char-Broil Kettleman Grill can be purchased at Lowe's or online at www.charbroil.com- be sure to check it out! It's only $129 and is loaded with many useful features. This Kettleman 22.5″ Grill really makes charcoal grilling easier than ever by giving backyard chefs ultimate control of the cooking experience!

Disclosure: Engineer Mommy is a participant in the Amazon Services, LLC Associates Program, which is an affiliate advertising program designed to provide a means for sites to earn advertising fees by advertising and linking to amazon.com. As an Amazon Associate I earn from qualifying purchases. For additional details, please see our full
Disclosure Policy
. Any link may be an affiliate link. All opinions are exclusively my own.