Mouth-Watering Apple Recipes for Autumn
September 3, 2015
Are you looking for some delicious apple recipes to use up all the apples that are prevalent this time of year?!
Apple picking season is around the corner! Going to the farm to pick apples is one of our family's annual Fall traditions. We love walking around the farm to pick apples, and I anticipate that the kids (now that they're a bit older) will really enjoy the tradition this year. At 4 and 2, my girls will definitely get excited about collecting their picked apples in their bags and then coming home to help me make one of these mouth-watering recipes featuring apples!
In addition to the actual picking of apples from the trees, we love going to the General Store that's adjacent to the farm. It's part of the whole tradition for us! What do we do at this store? Well, I have two things to say: fresh apple cider and fresh pumpkin spice donuts! Yum and yum!!
We also pick up a ton of other delicious goodies from the store, including seasonal fruits & veggies and a bunch of baked pastries! Not so good for the waistline, but oh-so-tasty, nonetheless!
So with our apple picking adventure only a few weeks away at this point, I figured a round-up of some amazing Apple Recipes would be in order! I gotta figure out what I'll be making with the ton of apples we usually bring home! And this list has a ton of delicious recipes! Check it out- I'm sure you'll find one you absolutely love!
Mouth-Watering Apple Recipes for Autumn
1. This apple crumble looks absolutely delicious. It can be enjoyed hot or cold, and the prep doesn't take much time at all! I love that! Source

2. These apple cinnamon streusel pancakes have all the flavors you want in a Fall breakfast. Along with a hot cup of coffee, this sounds like a divine breakfast! Source

3. These apple, walnut and m&m blondies are a delicious treat this Fall. They make a perfect lunchbox treat or after-school snack! Source

4. This apple dutch baby is a fabulous way to use up a ton of apples. A fabulous blend of pancakes and crepes, a dutch baby is a dessert that is gaining popularity! Source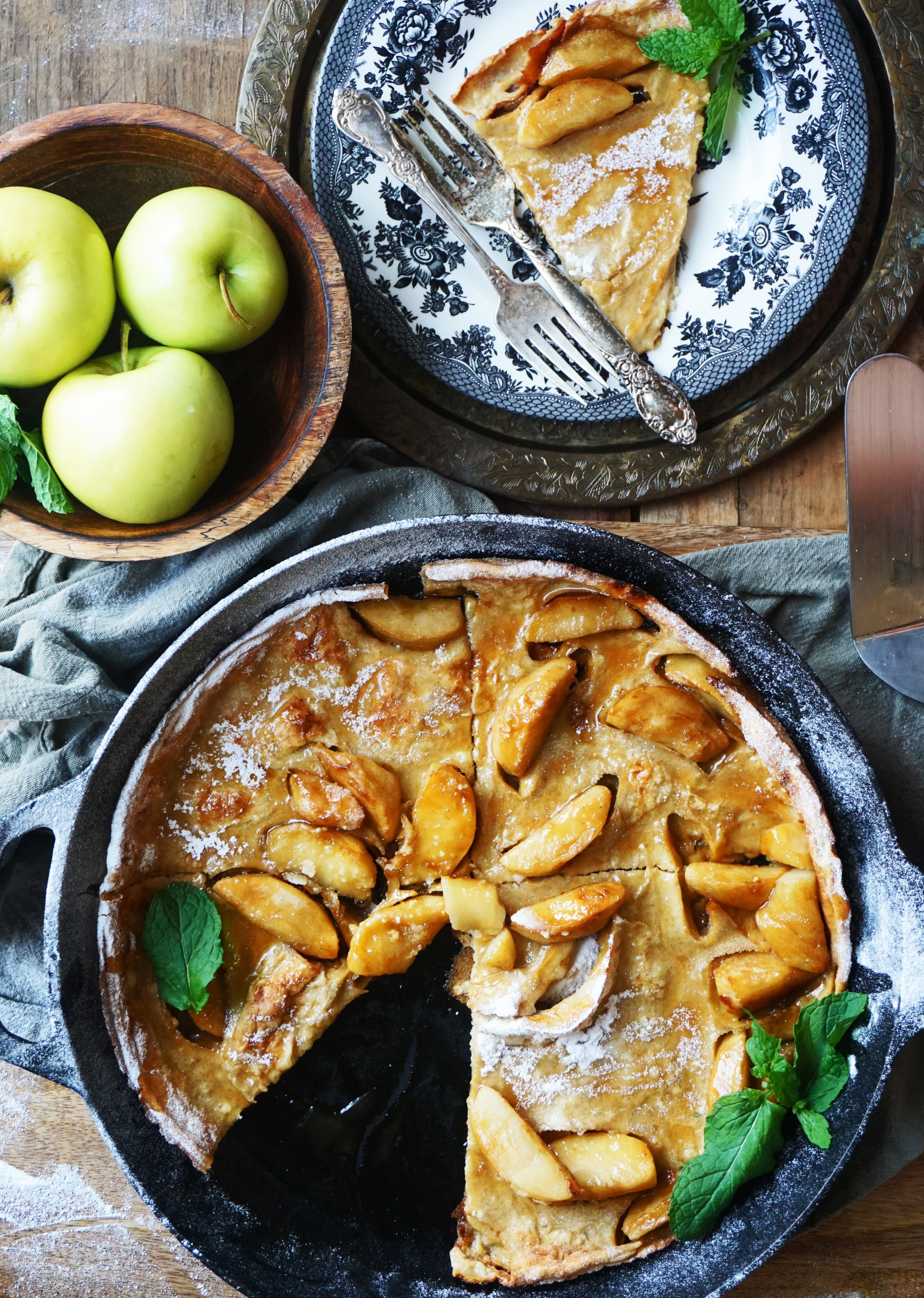 5. Looking for something savory? These cheesy biscuits with apple sausage gravy will surely be a winner! How delicious does this look? Source

6. I love delicious drinks and smoothies, and this apple pie smoothie has my name all over it! I have to try this one! Source

7. My husband is a huge cheesecake fan, so these mini apple pie cheesecakes are definitely on my to-make list for this year! They look so delicious! Source

Hope you found some delicious apple recipes here to try! I sure will be making a few of these (probably most of them) before the season is over! Happy Fall Baking!
Enjoyed this post? Wait, there's more to see!
Pumpkin Pie Pancakes


Disclosure: Engineer Mommy is a participant in the Amazon Services, LLC Associates Program, which is an affiliate advertising program designed to provide a means for sites to earn advertising fees by advertising and linking to amazon.com. As an Amazon Associate I earn from qualifying purchases. For additional details, please see our full
Disclosure Policy
. Any link may be an affiliate link. All opinions are exclusively my own.