DIY Educational Placemats
March 13, 2018
This shop has been compensated by Collective Bias, Inc. and its advertiser. All opinions are mine alone. #GoldfishGameTime #CollectiveBias
When my kids get home from school, they always want two things: a great snack and a fun activity. One of their all-time favorite snacks is Pepperidge Farm® Goldfish® crackers. During my weekly trip to Walmart a few days ago, I noticed that the 30 oz. cartons were on rollback in-store for only $6.46 so I stocked up on this family favorite. I picked up the Pepperidge Farm® Goldfish® crackers Cheddar and Pepperidge Farm® Goldfish® crackers Xtra Cheddar. The crackers totally inspired me to create these fun DIY Educational Placemats for the kids. I can't wait to share more details with you.
Click on the following image to purchase at Walmart.
DIY Educational Place Mats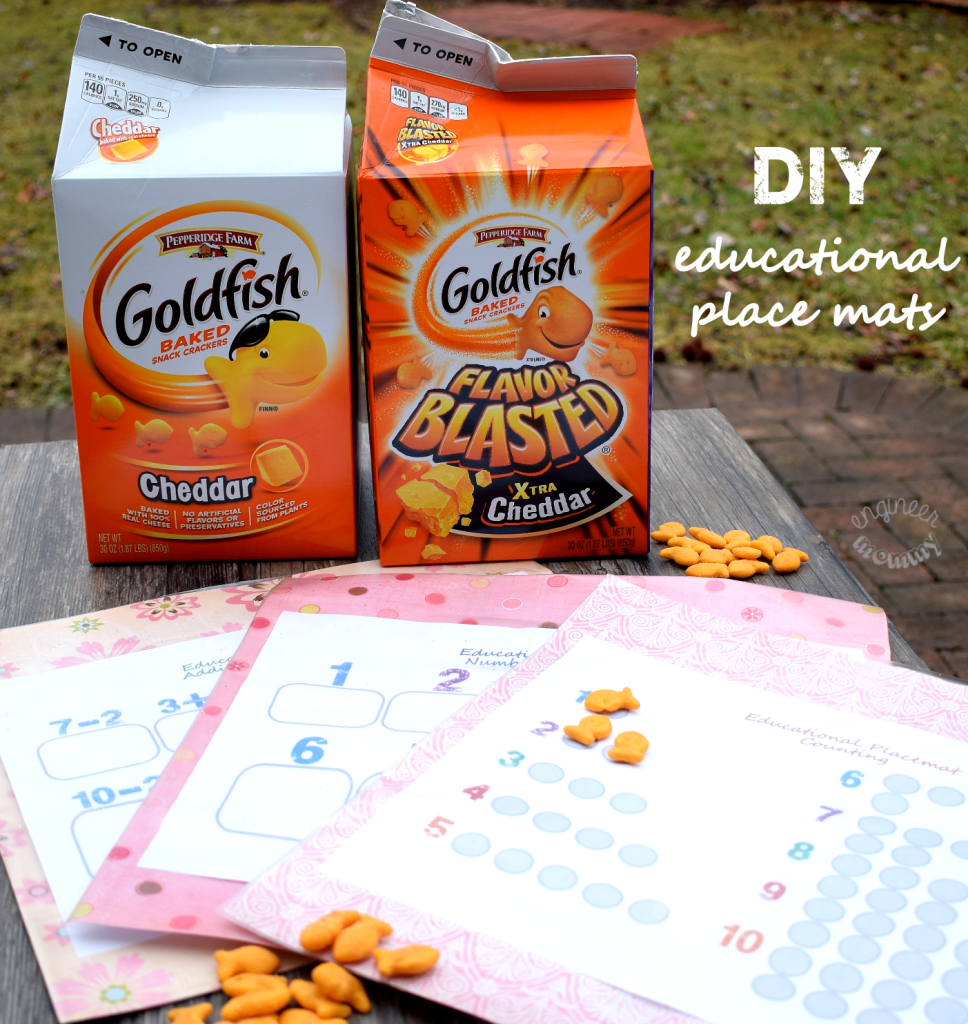 As springtime approaches, we find ourselves spending more and more time outdoors. One of the biggest perks of our current house is the spacious yard, which gives the kids plenty of room to play outside every day. It is something they enjoy and something I encourage. In fact, I truly believe that when the kids burn some energy in the great outdoors blowing bubbles, playing 'tag', or simply exploring nature, they are happier throughout the day.

Our after-school routine almost always involves some time outdoors. Once the girls are done running around, I usually set them up with these DIY Educational Placemats. They work through the questions on the place mats & snack on Pepperidge Farm® Goldfish® crackers. They love the great taste and I love that they are baked with real cheese. A win-win for parents and kids!

For kids, it is well-established that learning is best accomplished when it's paired with a fun game. That's why these place mats are perfect. They seem like just a fun game, but the kids are actually learning & reviewing important concepts, such as number recognition, counting, addition & subtraction.

Ready to see how to make these DIY Educational Placemats for yourself? Start by printing out the free educational placemat printables- simply click on a name to open up the file.
Also, gather the rest of the supplies needed for this project:
scrapbook paper, 12″x12″

glue stick

scissors

clear contact paper
Start by using the glue stick to adhere one of the printables directly on top of a sheet of decorative scrapbook paper.
Next it's time to attach the clear contact paper to make the place mats more water-resistant & kid-friendly. Cut the contact paper a bit larger than the size of the placemat, leaving the backing paper attached. Adhere one corner of the contact paper to one corner of the placemat. Slowly pull the paper backing off, while smoothing the contact paper along the way to remove any bubbles.
Continue peeling away the paper backing until the whole front of the place mat is covered in contact paper. Here are all three placemats complete. Fold over the edges of contact paper onto the back of the placemat.
The Number Recognition Place Mat is perfect for Charlotte, who loves to gather the right number of Pepperidge Farm® Goldfish® crackers into the numbered circles.

The Counting Placemat is also fun for Charlotte, who enjoys counting out loud as she places a Pepperidge Farm® Goldfish® cracker on top of each of the circles.

The Addition/Subtraction Place Mat is ideal for Sophia, who likes the challenge of solving a basic math problem to determine the number of Pepperidge Farm® Goldfish® crackers to place in the designated spot. When you get creative with Goldfish crackers, it's easy to keep the whole family entertained.

These placemats have become a fun addition to our evening routine. The kids really enjoy playing with them before dinnertime. I love that Goldfish crackers are a wholesome snack solution that tastes great! This spring, bring these educational placemats outdoors for some fun learning with Goldfish crackers. Goldfish crackers bring smiles for ALL families!

The two varieties we recently tried are Pepperidge Farm® Goldfish® crackers Cheddar and Pepperidge Farm® Goldfish® crackers Xtra Cheddar. However, there are many more varieties available at Walmart on rollback for $6.46.

Look for Goldfish crackers in the snack & cracker aisle. And to find more Goldfish cracker game inspiration, click here!


Have you ever made your own placemats for the kids? Does your family also enjoy Goldfish crackers? Are you looking forward to spring? Click here for more inspiration!

Disclosure: Engineer Mommy is a participant in the Amazon Services, LLC Associates Program, which is an affiliate advertising program designed to provide a means for sites to earn advertising fees by advertising and linking to amazon.com. As an Amazon Associate I earn from qualifying purchases. For additional details, please see our full
Disclosure Policy
. Any link may be an affiliate link. All opinions are exclusively my own.