Decaf Lavender Lattes
November 15, 2017
I have received information and materials from ©Johnson & Johnson Consumer Inc. 2017.The opinions stated are my own. This is a sponsored post. #ForBetterTomorrows #BetterTomorrows #FallBack #CollectiveBias
When we first moved into our single family home, one of the biggest perks for me was getting my very own garden (the house is on a large lot). I have always been interested in botany and taking care of plants & flowers. I truly enjoy spending time outdoors tending to my plants but a garden is a lot of work. Sometimes the physical activity of weeding, planting, raking and mulching can cause aches & pains. These aches & pains can totally disrupt my day and even my night if I don't take care of them right away. That's why I always keep my medicine cabinet stocked with TYLENOL® PM 100 count. With this on hand, I can banish those bothersome pains and ensure I have a good night's sleep. Keep reading for more tips on getting a restful snooze at night and grab the recipe for some tasty Decaf Lavender Lattes (they're the perfect pre-bedtime beverage).
Want to purchase TYLENOL® PM 100 count? Simply hover over the image below to buy!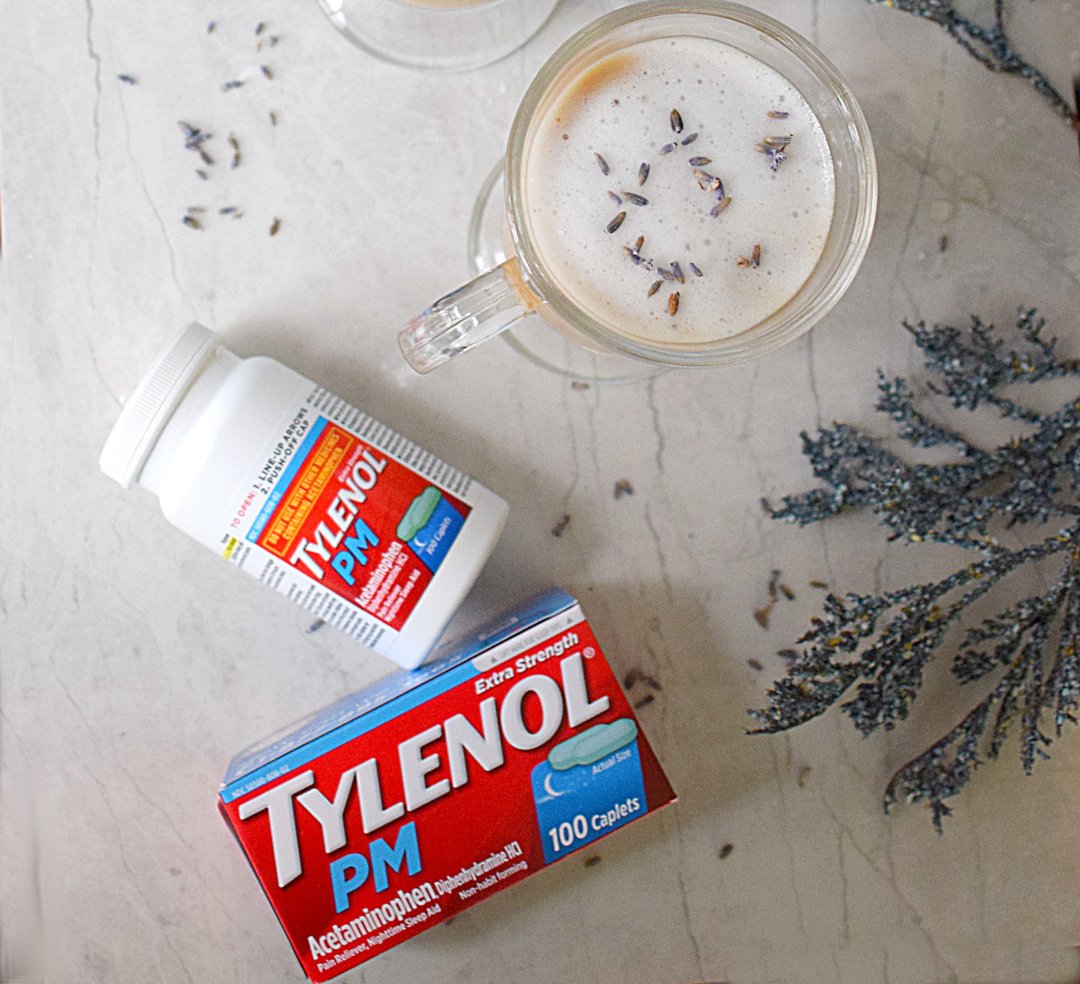 Speaking of my garden, I remember one day a few months ago very well. I undertook the huge job of removing all the leaves from our lawn. We have a 10K+ square foot property with plenty of mature trees. Needless to say, there were a ton of leaves to tackle.


I told my husband that I wanted to take care of it myself this time (normally he helps out and the whole process goes more quickly). However, I figured it was great exercise and plus, it can be satisfying to know that I did it all by myself. Well, after four (yes, I said FOUR) hours out there, I came in the house quite sore.


The aches & pains persisted through the day and even kept me up at night. It was a total bummer, because the next day, we were traveling to another state to visit family. As a result of a poor night's sleep, I was exhausted the rest of the day. I may have even been a bit snippy with the kids. It was such a bad experience that I promised myself I would never let aches & pains get in the way of a good night's sleep again. That's why I always keep TYLENOL® PM on hand now.
I love that TYLENOL® PM helps me get adequate rest at night when the aches & pains get to be too much. It's also reassuring to know that it's non-habit forming when used as directed.


TYLENOL® is actually partnering with Walgreens this year to help customers who are dealing with sleeplessness at night. Did you know that sleeplessness is actually the #1 complaint of these consumers? Of course, pain complicates issues for these consumers, so TYLENOL® PM solves both the problem of sleeplessness and the problem of pain. Follow the directions for use on the packaging exactly.


With Daylight Savings recently behind us, the days are shorter. This means I need to be more efficient and productive with the hours I do have during the day, but it also means I better get some good rest at night. After all, if I don't sleep well at night, it negatively affects my physical & and mental well-being. Even though I don't always get an uninterrupted eight hours every night, I do take some simple steps to ensure that I am prioritizing my sleep.
1. Put away electronics! I have gotten into the habit of leaving all electronics out of the bedroom, including phones, tablets and computers. By designating the bedroom as the place for rest, it helps my mind go into a state of calm once I get in bed.
2. Read a book! The act of diving into one of my favorite novels is totally calming for the mind. I love getting lost in the plot lines and it is always a relaxing experience.
3. Take a bath! Soaking in a hot tub really helps me wind down in the evening. I especially love to use my oil diffuser with some lavender essential oil. The scent is super calming!
4. Use the heating pad! If I'm feeling a bit sore from too much work (in the garden, for example), I like to apply my heating pad to sore muscles.
5. Make a warm drink! I love sipping on a warm beverage in the evenings. One of my favorite new drinks I've been loving is a Decaf Lavender Latte – I can't wait to share the simple recipe with you below.
Sometimes I crave coffee in the evenings but I definitely don't want all that caffeine – it would totally keep me up at night. That's where my decaf lavender latte comes in. It's delicious & soothing and totally hits the spot before bedtime! Featuring the soothing scent and taste of lavender syrup, this beverage is a surefire way to end the day on a great note!
First, let's make the lavender syrup. This step is really quick & easy. Grab some sugar, water and culinary lavender buds. For the detailed recipe, scroll down to the printable recipe card.
In a saucepan, combine the water & sugar and bring to a boil. Then, add the lavender to the boiling water and let simmer for about three minutes.
Pour the lavender mixture through a tea strainer (or other fine-mesh sieve) to separate the liquid from the solids.
Bottle up that lavender syrup in a mason jar- this can be easily used to add a bit of calming lavender flavor to tea, coffee, baked goods, and more. It's a great flavor enhancer to store in the fridge!
Now, let's assemble our lattes. Brew a cup of decaf espresso (a cup of decaf coffee would also work). Add some lavender syrup – start with less and you can always add more!
Add a bit of milk to the coffee.
Now, let's make this look pretty! By the way, I don't have one of those fancy espresso machines with a built-in milk frother, but I did pick up a handheld milk frother (it was super affordable) that does an excellent job. Simply pour the frothed milk on top & garnish with a few more lavender buds.
Seriously, is this not a gorgeous latte? When you taste this, you will definitely notice the subtle & delicious lavender flavor – it's totally a pleasant surprise!
With my Decaf Lavender Lattes & TYLENOL® PM, I am totally ready to take back my evenings and enjoy some good rest at night.
I usually make two of these lattes because my husband is also hooked on the great taste of these lattes!
I picked up my TYLENOL® PM 100 count at my local Walgreens store. I love shopping here because I can find so many essentials at a great price (from makeup to paper goods to milk and more). To keep up-to-date with the latest from TYLENOL® PM, visit them on Facebook and YouTube.

To make these lattes another day, simply print out this recipe card.
Decaf Lavender Lattes
2017-11-13 12:29:33
Nutrition Facts
Amount Per Serving
* Percent Daily Values are based on a 2,000 calorie diet. Your Daily Values may be higher or lower depending on your calorie needs.
For the lavender syrup
1 cup water
1/2 cup sugar
1/4 cup culinary lavender buds
For the latte
brewed decaf coffee (or espresso)
1/2 cup milk
1-2 tbsp prepared lavender syrup
For the lavender syrup
1. To make the lavender syrup, add the sugar and 1 cup of water to a medium saucepan.
2. Bring to a boil, add the lavender buds and simmer for 3 minutes. Let cool.
3. Use a tea strainer (or fine-mesh sieve) to separate the lavender syrup from the lavender buds. Store in a sealed glass container in the refrigerator.
For the lavender latte
1. Add the brewed decaf coffee or espresso to a glass.
2. In a separate glass or jar, froth the milk.
3. Add the lavender syrup to the espresso and top with the frothed milk.
Optional: Sweeten with agave nectar, if desired.
Engineer Mommy https://engineermommy.com/
Add TYLENOL® PM to your shopping list on your next trip to Walgreens and don't let pains keep you up at night. Do you ever crave coffee at night? Would you like to try one of these lavender lattes?
TYLENOL® PM contains a pain reliever and nighttime sleep aid. ©Johnson & Johnson Consumer Inc. 2017 The third party trademarks used herein are trademarks of their respective owners.

Disclosure: Engineer Mommy is a participant in the Amazon Services, LLC Associates Program, which is an affiliate advertising program designed to provide a means for sites to earn advertising fees by advertising and linking to amazon.com. As an Amazon Associate I earn from qualifying purchases. For additional details, please see our full
Disclosure Policy
. Any link may be an affiliate link. All opinions are exclusively my own.