Battle Dry Winter Air with a Holmes Smart Humidifier
December 1, 2014
This post brought to you by Holmes Products. The content and opinions expressed below are that of Engineer Mommy.
The days are getting shorter & colder here in the Northeast, and that means more time indoors for me & my family. Though I enjoy spending time indoors with my kids, I am always aware of the issue of indoor air quality, especially when my kids are breathing that air 90% of the day! One facet of air quality that is notoriously problematic during the cold, Winter months is the humidity level- specifically, the air becomes way too dry in the Winter! The obvious solution is a humidifier, and one that seems to be on the cutting edge of new technoogy is the Holmes® Smart Humidifier Console
 enabled by WeMo.
This smart humidifier is a whole house humidifier! What this means is you won't be needing to buy and maintain separate humidifiers for each room of the hosue. Instead, just one purchase enables your to humidify the air in your whole house, so your whole family can benefit from better humidity levels! The WeMo technology featured in the Holmes Smart Humidifier allows you to customize and manage the humidifer remotely, via smartphone or tablet. Getting into the smart home market used to be cost-prohibitive for most Americans, but that has changed. Now this Smart Humidifier, with its affordable price of $199.99, makes getting into the smart home industry much more approachable for so many! Take a look at it!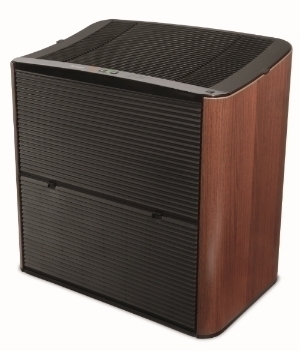 Sleek, right? Its neutral colors blend in nicely! Here's what you can do with this humidifier:
You can select the right level of humidity, taking into account the current weather conditions.
You can adjust your humidifier settings whenever & wherever, via smartphone or tablet.
You can choose between five different comfort levels.
You don't have to constantly refill water tanks, as this device features 36 hours of continuous runtime.
You can humidify your entire home, so that everyone stays comfortable all Winter long.
You can conveniently purchase new filters through the app when the filter reminder tells you it's time to do so.
What I really like about this Holmes Smart Humidifier Console is the health benefits. During this time of year, it seems like someone in my family is always battling a cold. Especially since my 3 year old started preschool, it seems like germs & infections are a part of life around here. I've noticed that when the air is too dry, my kids' congestion seems to worsen. My 16 month old, in particular, is very sensitive when it comes to respiratory issues, and I always try to keep the air as humid as possible for her. When the air is nice and humid, then I notice she can breathe so much more easily… and that means Mom can breathe so much more easily!
Another thing that becomes problematic during this time of year is my skin. During the Winter, the skin on my face gets so dry and there are even small patches of dryness – not cute! Even the most emollient, moisturizing creams don't really fix the problem. What really helps solves my dry skin problem is re-humidifying the air. Increasing the moisture in the air keeps my skin looking healthy and hydrated, and then I can save money by not buying expensive face creams!
The WeMo technology is really a neat feature. Here are some examples where being able to control your device remotely would come in handy: 
Did you pick up your child from preschool to find them really congested? (That was me last week!) Simply use the WeMo app from your car to turn up the humidity level in your home. By the time you get home, your congested child will be breathing moist air!
If you left your house for the day and realized you left your humidifier on by accident, it's not a problem. You don't have to go back home. Simply log on to the app and shut it off. Easy peasy!
Being able to remotely control home electronics devices is definitely the wave of the future. Why not get involved and take advantage of the convenience and freedom that this technology offers!
I'm really impressed with all the features this device offers. I am really considering purchasing the Holmes® Smart Humidifier Console
 for our home, and if you're in the market for a humidifier, I hope you will consider it, too! Be sure to check out some of their other products while you're there- they have some cool stuff! 

Disclosure: Engineer Mommy is a participant in the Amazon Services, LLC Associates Program, which is an affiliate advertising program designed to provide a means for sites to earn advertising fees by advertising and linking to amazon.com. As an Amazon Associate I earn from qualifying purchases. For additional details, please see our full
Disclosure Policy
. Any link may be an affiliate link. All opinions are exclusively my own.